Skip to main content
Endurance Cargo Bib Knicker
blackout
Product Info
CODE: FOA403778-02E
When it comes to "road work - " a ride in the Endurance Cargo Bib Knicker provides an elevated experience beyond compare. Advanced stretch fabrication provides extended range of motion for enhanced performance - and compression fabric offers additional muscular support for less stress and quicker recovery. It's finished with a reflective graphic print on the leg for greater visibility in low light conditions.
Detalhes do material
- BIB com alças de malha perfuradas
- pernas de 3/4 de comprimento
- Costuras planas>br- Bolso aberto na perna esquerda
- Logotipo Ellipse Refletivo no bolso da perna
- Impressão gráfica reflexiva na parte inferior da perna
- Bolso traseiro com Tecnologias Oakley
- Punho da perna elástico com Silicone
- 196 gramas
- Performance fit
- 80% POLIAMIDA, 20% ELASTANO

- Almofada interna
- ALTA Densidade (10 mm), espuma de poliuretano
- Suporte para ajuste DE Estabilidade, CIRCULAÇÃO DO sangue
- 44 gramas
- Adequado para viagens mais longas
4 Way Stretch
Quick drying. Flexible. A multi-directional 4-Way Stretch fabric ensures greater freedom of movement and enhanced comfort.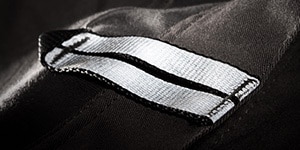 Reflective
Offers high visibility in low-light conditions for your enhanced safety.
Hydrolix™
Stay cool, dry and comfortable with moisture absorption, wicking and accelerated drying time. Oakley's exclusive O Hydrolix™ moisture management system functions throughout your performance.
Inner pad
A pad that is sewn into the cycling shorts and made of cushioning foam of varying densities, with a top surface that helps to wick moisture and provide a soft feel against your skin.
UPF 50+
An advanced fabric treatment designed to provide "excellent" protection against the sun's harmful UVA and UVB rays.